Initial project setup
We're working towards this Node tree for our Scene: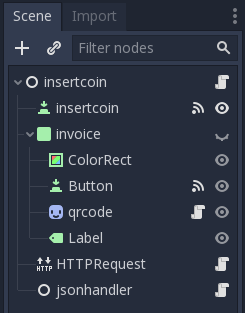 Use this image as a reference.
Create a new folder "insertcoins" using your OS file-explorer. Remember this location, you'll need it later on.
In Godot create a new godot project on startup, name it "insertcoins", select the directory you just created 'insertcoins'.
Create your Root Node by clicking '2D Scene' on the left hand side of the screen, under the Scene tab.
Rename the Root Node by double clicking on 'Node2D' in the top of the Scene tab. Name it "insertcoin" and press Enter.